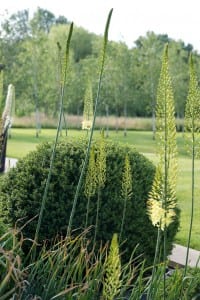 Introduced to the Chiltern estate project in 2009, some may say we never want to leave, for we are still working on creating this garden, as the grounds evolve before us.
The garden evokes a gorgeous feeling of serenity; don't tell the client, but the garden really feels like it's my own garden.

You can compare them in the flesh for they are both open this year under the National Garden Scheme. Orchard House (aka Chiltern Estate) is open on 8th June whilst Rivermead is open on Saturday 10th September.
Needless to say teas and cakes will be available at both, with a petting zoo is an added attraction at mine.