Following the Glorious start to September, the heavens opened with a vengeance on the 10th when my garden was open for the first time under the National Garden Scheme.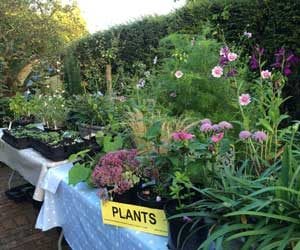 However the spirits of those who ventured forth were buoyed by much cake and tea, and a plant stall groaning under the weight of plants that many of my suppliers had generously donated, topping up those grown in my man cave.
Other suppliers donated fabulous gardening related gifts, ranging from bespoke painted wooden planters to Felco secateurs. Small wonder over £500 was raised which will be shared between the NGS main charities including the Macmillan Nurses and our chosen charity Helen and Douglas House. Meanwhile the freezer is full of cakes and the pavement outside my house is doing a good trade selling off the rest of the plants.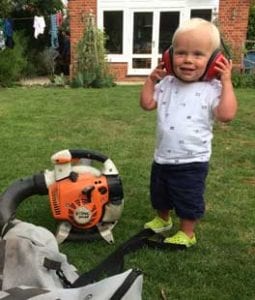 Opening the garden was of course inspired last year by the fundraising that we embarked upon to support and help my great nephew Leo who at the age of four months had been diagnosed with bladder cancer. Leo and his family spent eight weeks last summer undergoing Proton Treatment in Oklahoma, and the results have been amazing. He only needs check ups every six months and we were delighted when he popped in to help us get the garden ready for this years open day.
All in all it was a wonderful occasion and we'll definitely be doing it again, albeit in better weather I hope. Meanwhile if you need cake or plants you know where to come!
Save